BUHARI APPROVES SUSPENSION OF REMOVAL OF PETROLEUM SUBSIDY
Written by Samson Ojeniran on January 26, 2022
President Muhammadu Buhari has approved the suspension of the removal of fuel subsidy until further notice.
Minister of State, Petroleum Resources, Timipre Sylva, said this on Tuesday after meeting with the President at the Aso Rock Villa Abuja.
Addressing State House Correspondents, the minister said the executive will propose 18 months extension to National Assembly for the implementation of the Petroleum Industry Act, PIA, that was meant to kickstart by February.
The extension, according to the government, is to give all the stakeholders time to ensure that the implementation is carried out in a manner that guarantees that all necessary modalities are in place to cushion the effect of the PMS subsidy removal.
The Federal Government had claimed that it subsidises petroleum consumption at the current N162 and N165 per litre as pump price to the tune of N2 or N3 trillion yearly.
While announcing plans to remove the subsidy in late 2022, the government said it will dole out N5,000 to poor Nigerians to ameliorate their likely economic hardships.
The new Petroleum Industry Act, PIA, provides for unrestricted market pricing for PMS from the date of its coming into effect.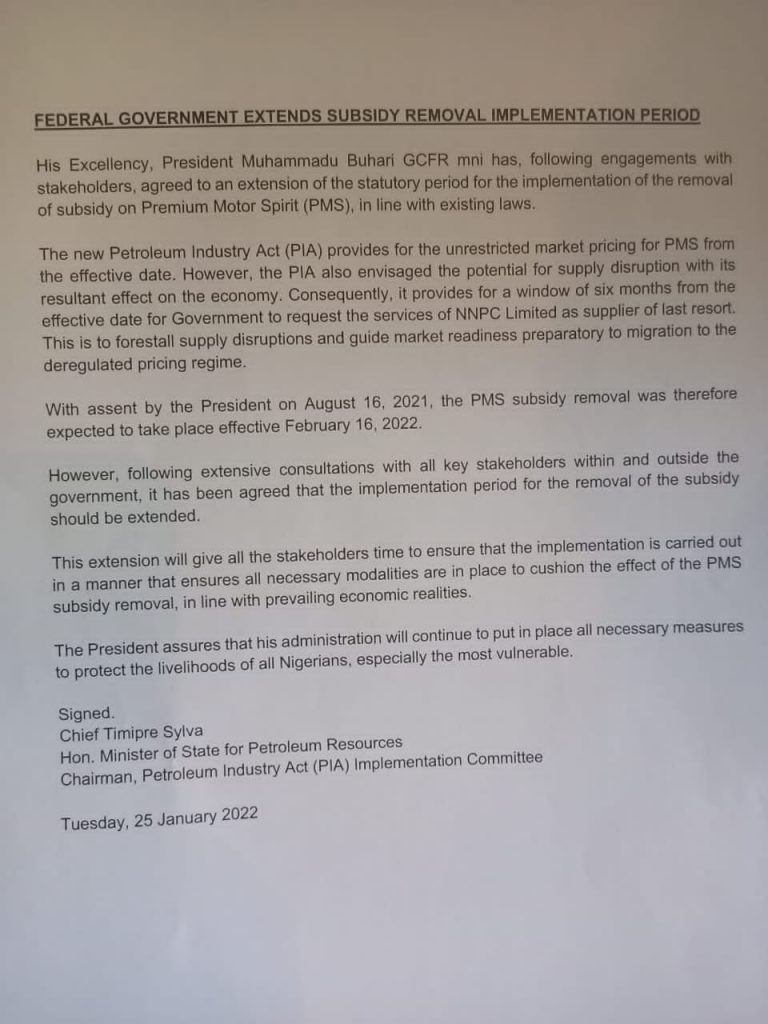 However, the PIA also envisages the potential for supply disruptions with its resultant effects on the economy. Consequently, it provides for a window of six months from the effective date for Government to request the services of Nigerian National Petroleum Company, NNPC, Limited as a supplier of last resort.
The measure, Sylva explained, is to forestall supply disruptions and guide market readiness preparatory to migration to the deregulated pricing regime.
President Buhari had on 16th August 2021 signed the Petroleum Industry Bill into law.
Buhari's assent to the bill was in furtherance to the passage of the Bill by both the Senate and the House of Representatives earlier in July 2021.
The PIA is expectedly to grow investors' confidence in Nigeria's Petroleum Industry and create more employment opportunities for the populace in the host communities.
---
Reader's opinions
---